Hakua are
Kokuchi
counterparts, much like Rei.
Appearance
Edit
As counterparts of Kokuchi, they are also lizard-like except the color of white, the opposite color of Kokuchi which is black.
Background
Edit
Like other Shin counterparts, they are also Rei. Like other Rei and Shin, they repair and mend tears on the boundary lines that are too small for Kings and their Children to concern themselves with.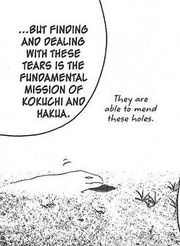 Ad blocker interference detected!
Wikia is a free-to-use site that makes money from advertising. We have a modified experience for viewers using ad blockers

Wikia is not accessible if you've made further modifications. Remove the custom ad blocker rule(s) and the page will load as expected.